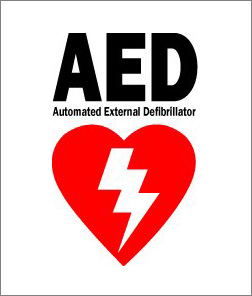 It is no accident that God has managed to introduce some new legislation that is very near and dear to my "heart" this Valentine's Day season. So, today, I am asking you to spread the word and "have a heart" to help make HB4442 at law!
The purpose of HB4442 is to require AEDs (automated external defibrillators) in ALL public schools. This bill has been presented by Delegate Cowles and is under consideration of the Education Committee, chaired by Delegate Mary Poling (D-Barbour).
AEDs save lies. Just a single second of time can make the difference between life, death, even quality of survival. Placing AEDs in all public schools will not only benefit our children but also the numerous and countless members of the community at large that attend gatherings at school facilities.
My family has quite a personal interest in seeing that this "bill to amend the Code of West Virginia, 1931, as amended, by adding thereto a new section, designated §18-5-27, relating to requiring automated external defibrillators in public schools" becomes law. You see, not long ago, I was deeply afraid to send my three young children to school. Earlier, their father was diagnosed with an unusual heart condition called Brugada Syndrome. This illness causes an unusual heart arrhythmia which is not only fatal, it is also genetic. Not long before the 2010 school year began, our genetic doctor from WVU instructed us that in order for our children to be safe, it was imperative that they have access an AED at school facilities. At that time, Warm Springs Intermediate did not have an AED.
Thanks to the generous heart of the Seeley Foundation and the awesome support form our local school superintendent, Dave Banks, we were able to provide one AED in each school in the county. The Hott Family's Story can be found here:
http://www.excusemecanitellyousomething.blogspot.com/2010/08/excuse-me-can-i-tell-you-something.html
This blog post is exactly what I read to our Rotary group seeking finances to purchase our school an AED.
More AEDs are essential to save lives and their timely accessibility to a cardiac incident is imperative for a victim's recovery. Not only for children with medical needs but also for a community at large, will AEDs availability provide immediate assistance. Just last week, a 12 year old boy in upstate New York heart stopped when he was hit in the chest with a lacrosse ball. He was only administered CPR; an AED was not available to restart his heart.
Please help make HB4442 at law! Just email/write/call Delegate Poling and place "HB4442" in your subject line. Encourage your friends to also write as well. HB4442 can save lives and protect our children.
Forward your letters to
Mary M. Poling (D - Barbour)
District 40
Capitol Address:
Room 434M, Building 1
State Capitol Complex
Charleston, WV 25305
Capitol Phone: (304) 340-3265
Business Phone: (304) 457-2206
E-mail: mary.poling@wvhouse.gov
THANK YOU! Let's make HB4442 a LAW! It could be your heart that needs it!